Displays thousands of points of interest throughout the continent, including restaurants, lodging, petrol/gasoline stations, attractions and railways


Gives turn-by-turn directions on compatible devices


Speaks street names (example: "Turn right on Main Street")


Includes navigational features, such as turn restrictions, roundabout guidance and speed categories


Contains traffic data for compatible devices that use traffic receivers


Coverage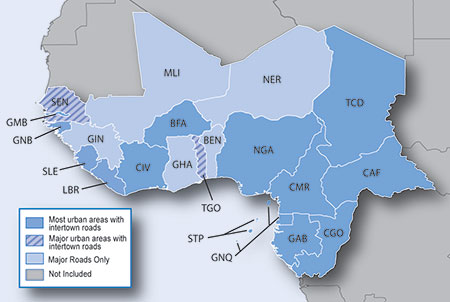 Features motorways, national and regional thoroughfares and local roads, in Western Africa, specifically:


Nigeria


Liberia


Guinea-Bissau


Sierra Leone


Benin


Togo


Ghana


Ivory Coast


Guinea


Gambia


Senegal


Burkina Faso


Mali


Niger


Cameroon


Central African Republic


Chad


Equatorial Guinea


Gabon


Republic of Congo


Sao Tome and Principe


microSD™/SD™ Card Requirements
Make sure your device is compatible with this product before purchasing. View limitations with some marine mapping products.
To view and use the maps on this card, you must have a device with a microSD/SD card slot. Maps on a microSD/SD card require a unit to be viewed on a computer with BaseCamp™ or HomePort™, depending on the type of map.
Reduced price map updates are not available for these cards. If you want to update the maps, you must purchase a new card that includes the latest map data.
The microSD/SD card package includes a microSD card and a SD card adapter.
| | |
| --- | --- |
| Name | City Navigator® West Africa NT |
| SKU | 010-D1126-00 |
| Weight | No |
| Price | R1,039.00 |