DESIGNED FOR RUNNERS
Advanced but also straightforward - for all levels of runners.

Wrist-based heart rate
No chest strap needed - Polar M430 gets your heart rate from your wrist easily, accurately and reliably.

Run indoors and out
When outside, integrated GPS has your pace, distance and altitude covered. When indoors, it's the wrist movements that capture your pace and distance.

Polar Sleep plus
Sleeping well is key to your well-being, recovery and improved results – no rest, no gain. Polar Sleep Plus equips you with tools to sleep better every night.
ADVANCED RUNNING FEATURES
For a nice smooth path towards your running goals. Train right and follow your progress.
Train for a running event
Running Program offers you a personal and adaptive training plan that fits you and your goals.
Running index
Follow your Running Index to keep track of how your running performance develops.
Fitness test made easy
The Polar Fitness Test is now easier than ever thanks to wrist-based heart rate.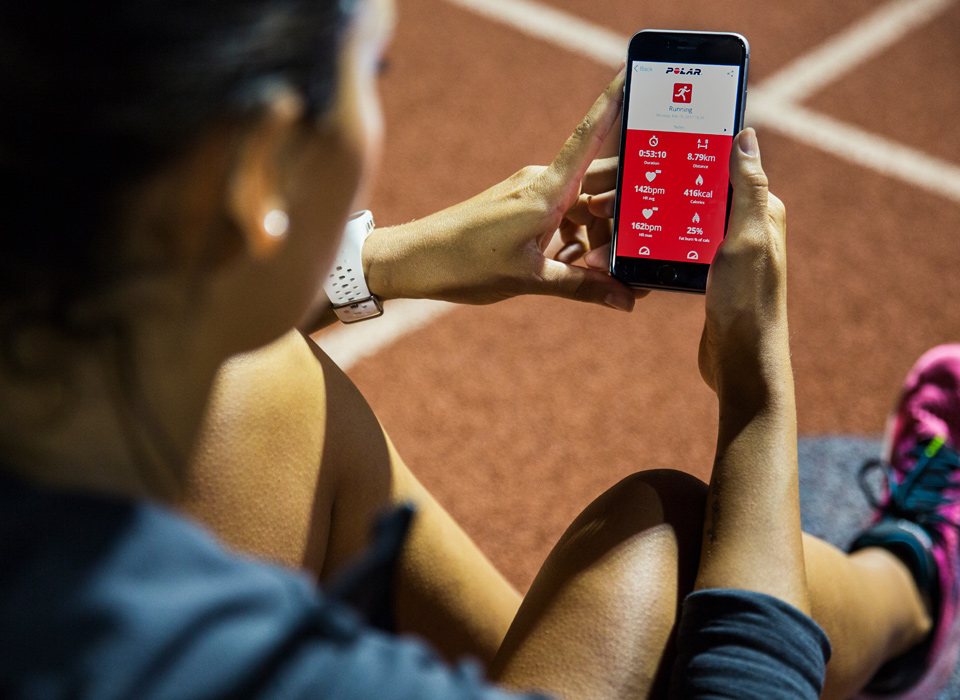 POLAR FLOW - THE HOME OF YOUR DATA
Track your activity, analyse your progress and achieve more with Polar Flow – the complete fitness and training platform available on desktop and mobile. You can also automatically sync your training data to other services such as Strava or TrainingPeaks.

Training
See all your training data, analyse your performance and follow your progress. Analyse quickly in the app and in depth in the web service. Plan your workouts, follow your recovery or set up a training program for a running event.

Activity & sleep
Track your daily activity and sleep, see your daily, weekly and monthly summaries and learn about the health benefits of your daily choices.
FEATURE HIGHLIGHTS


Running Program

Train for a running event with a personal and adaptive training plan in Polar Flow. Choose from four different targets, 5K, 10K, half marathon & marathon and get a training plan that fits you and your goals. Read more


Running Index
See how your running performance develops. Read more


Fitness Test with wrist-based heart rate
A five-minute test that measures aerobic fitness from your resting heart rate, heart rate variability and your background information. Complete the test regularly to see the progress you're making. Read more


Training Benefit
Get motivating feedback immediately after training, describing the effect of the session. Read more


Training Load
See how your training affects your body and compare the load of different sessions. Monitor your load continuously to recognise your personal limits and adjust training intensity and duration accordingly. Available on Polar Flow. Read more


Recovery Status
See how long you'll need to recover before your next training session. Available on Polar Flow. Read more

OTHER SMART COACHING FEATURES
Continuous Heart Rate
Get a comprehensive view on how your heart behaves during your day with 24/7 heart rate monitoring. Read more


Activity Guide
See how active you've been during the day and get practical guidance for reaching your daily activity goal. Read more


Activity Benefit
Get feedback on your daily, weekly and monthly activity. See how your active choices help you stay healthy. Read more


Smart Calories
Keep track of the calories you've burned. You'll be able to see the calories burned during each training session and for the whole day. The continuous heart rate measurement combined with 24/7 activity tracking make sure your calorie burn is measured accurately and reliably. Read more


Sleep Plus
Sleeping well will help boost your recovery and performance. Polar Sleep Plus automatically detects the timing, amount, and quality of your sleep. You'll also receive feedback on your sleep so that you can make changes towards better sleep. Read more
| | |
| --- | --- |
| Name | Polar M430 Black |
| SKU | P13591 |
| Weight | No |
| Price | R2,995.00 |