CUTTING-EDGE SPORTS TECH
The latest wearable tech innovations make sure Polar Vantage V gives you all the accurate data you need to maximize your performance.

Top Solutions for Heart Rate Monitoring
Polar Vantage V works with different heart rate tracking solutions to provide you the optimal heart rate monitoring method for your sports.
Track your heart rate with Polar Vantage V
When it comes to heart rate monitoring, different sports have different needs. Polar Vantage V offers you several heart rate tracking solutions – choose the method that suits best to your sports and conditions.
Precision Prime
Polar Vantage V introduces the next generation of wrist-based heart rate monitoring: Polar Precision Prime sensor fusion technology. This innovation combines optical heart rate measurement with other sensor technologies in order to rule out motion artifacts that might disturb the heart rate signal and produce unreliable readings.
Polar H10 heart rate sensor
When you need unparalleled accuracy, pair Polar Vantage V with the Polar H10 heart rate sensor, the gold standard of heart rate monitoring. The Polar H10 heart rate sensor and the Polar Pro chest strap are the optimal choice for interval training, racket sports or any sports with plenty of arm movement.
You can buy the Polar H10 heart rate monitor separately or as a set with Polar Vantage V.
Polar OH1 optical heart rate sensor
The Polar OH1 is an optical heart rate sensor that you can wear on your upper arm or forearm. It's a great alternative if you can't wear a watch on your wrist in your sport or if you find the chest strap unpleasant to wear. Polar OH1 comes with a comfortable textile armband and it's easy to put on and take off.

Polar OH1 is sold separately.

Monitor your Running Power
Polar Vantage V measures running power from the wrist - no additional foot pods or sensors needed.
Polar Vantage V & Running Power
Polar Vantage V is the first multisport watch to measure running power from the wrist.
Training with running power
Running power is a great complement to heart rate monitoring – it helps you monitor the external load of your running.
Power responds to changes in intensity faster than your heart rate, which is why Running Power is a great guiding metric in interval and hill sessions. You can also use it to maintain a steady effort level during your run, for example in a race.
The calculation is done with Polar's proprietary algorithm, and it is based on your GPS and barometer data.
Polar Vantage V uses Running Power to calculate your Muscle Load, the load that your training session puts on your joints and your muscular and skeletal systems.
OPTIMSE YOUR TRAINING
If you want to train like a pro, you need to recover like a pro. Polar Vantage V helps you find the right balance between training and rest and stay injury-free with a uniquely holistic training load and recovery tracking solution.

Know How you Train
The new Training Load Pro gives you a comprehensive view on how your training sessions strain your body in different ways.

Prevent Overtraining and Injuries
See whether your body is ready for training and get recovery feedback with Recovery Pro.
SEE HOW IT WORKS
Train like a pro, recover like a pro
When you're training to achieve a specific goal, you need to find the balance between different types of training and rest. Polar Vantage V monitors your training load from each training session, measures your daily and long-term recovery levels and helps you recognize your personal limits by telling you whether you have been training too much, too little or just right.
Polar Vantage V gives you a personalized training recommendation for each day and warns you when you are at risk of overtraining, injury or illness. It can also recognize if you have too much stress from something else than training and will motivate you to keep training if you start to lose your momentum.

Training Load Pro
When you train, the different systems of your body get strained. With Polar Vantage V, you get a holistic view on how your training sessions strain these different systems and how it affects your performance.
Training Load Pro gives you a training load level for both your cardiovascular and your musculoskeletal system (Cardio Load and Muscle Load), and also takes into account how strained you feel (Perceived Load).
When you know how strained each body system is, you can optimize your training by working the right system at the right time. You get a numerical value, verbal feedback and a visual bullet scale for each training load.
Cardio Load
Your Cardio Load value tells you how much strain your training session put on your cardiovascular system. It is calculated after every workout from your heart rate data.
Your Cardio Load is calculated as training impulse (TRIMP), a commonly accepted method to quantify training load.
Muscle Load
Muscle Load tells you how much your muscles were strained during your training session. Muscle Load helps you quantify your training load in high-intensity training sessions, such as short intervals, sprints and hill sessions, when your heart rate doesn't have enough time to react to the changes in the intensity.
Muscle load shows the amount of mechanical energy (kJ) that you produced during a running or cycling session. This reflects your energy output (instead of the energy input it took you to produce that effort). In general, the fitter you are, the better the efficiency between your energy input and output. Muscle Load is calculated from your power data, so you only get a Muscle Load value for your running workouts (and cycling sessions if you're using a cycling power meter).
Perceived Load
Perceived Load is a value that takes into account your own subjective experience of how demanding your training session was.
The key to finding the balance between training and rest is learning to listen to your body and to combine your subjective feeling with the data you get from your Polar Vantage V. This is something athletes learn by doing, and your training data will help you learn to know your body better.
Your Perceived Load is quantified with Rate of Perceived Exertion (RPE), a scientifically accepted method to quantify training load. Your Perceived load levels indicate how hard a training session was compared to your session average from the past 90 days.
Strain & Tolerance
In addition to the training load from individual training sessions, you can follow how Cardio Load builds up over time – the relation between strain and tolerance.
Strain shows how much you have strained yourself with training lately. It shows your average daily load from the past 7 days.
Tolerance describes how prepared you are to endure cardio training. It shows your average daily load from the past 28 days. To improve your tolerance for cardio training, slowly increase your training over a longer period of time.
Your Cardio Load Status looks at how your Strain compares to your Tolerance and estimates how your training is impacting your body.
Recovery Pro (Polar H10 required)
Polar Vantage V helps you prevent overtraining and injuries with a unique recovery tracking solution. It actually measures how recovered your body is and offers you recovery feedback and guidance.
Daily recovery
You can measure your daily recovery level with the Orthostatic Test (Polar H10 required). It is based on your heart rate and your heart rate variability, and it takes into account all stress factors of your life, including stress from training and stress caused by other aspects of life, such as poor sleep or work pressure.
Training and Recovery Balance
Recovery Pro combines your long-term recovery data with your long-term training load to monitor the balance between training and recovery. This will help you recognize your personal limits by showing whether you've been training too much, too little or just right.
Recovery feedback
With Recovery Pro you get feedback for both your current cardio recovery level and your longer-term training and recovery balance. Polar Vantage V combines these two into a daily personalized training recommendation.
MORE THAN A SPORTS WATCH
When you train with Polar Vantage V, you get access to the full Polar ecosystem where everything is connected. All your training data is conveniently available on one platform in Polar Flow. You can also automatically sync your training data to other services such as Strava or TrainingPeaks.

The Ultimate Training Platform
With extensive training planning and analysis tools, an automatic training diary, progress reports and much more, Polar Flow will help you achieve all your training goals. Learn more

Data for your Coach too
Share all your training data with your coach, get instant feedback and plan your season together with your coach with the free Polar Flow for Coach service. Learn more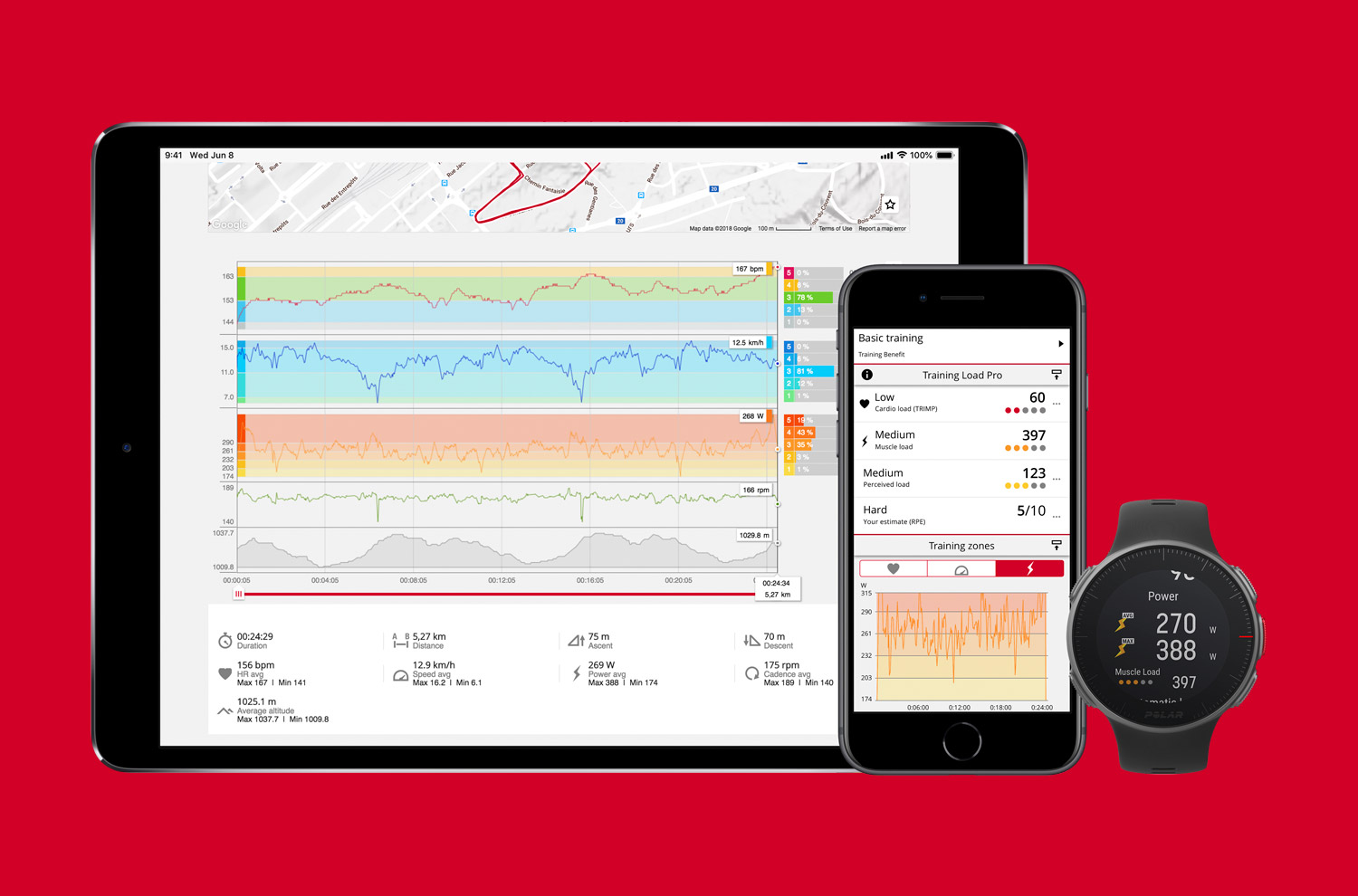 FEATURE HIGHLIGHTS
Advanced Wrist-based Heart Rate
Polar Vantage V tracks heart rate with the Precision Prime sensor fusion technology.*


Training Load Pro
Quantify the strain of your training session and see how your training strains the different parts of your body. Learn more


Recovery Pro
See how recovered your body is and get recovery feedback. Learn more


Running Power
Get more comprehensive insight into the intensity of your running sessions. Learn more


Sport Profiles
Polar Vantage V supports over 130 different sports. Add your favourite sports to your sports watch in Polar Flow.


Swimming metrics
Follow your progress in the pool – Polar Vantage V automatically detects your heart rate, swimming style, distance, pace, strokes and rest times. Distance and strokes get tracked also in open water swimming.


Phone Notifications
Stay connected with notifications from your phone. Get alerts for incoming calls, messages, emails, calendar events and more.

OTHER SMART COACHING FEATURES


Running Index
Get an estimate of your running VO2max and see how your running performance is developing. Learn more


Running Program
Get a personal and adaptive training plan that fits you and your goals. Learn more


Smart Calories
Know exactly how many calories you've burned based on your weight, height, age, gender, your individual maximum heart rate (HRmax) and how hard you're training. Learn more


Training Benefit
Get motivating feedback immediately after training describing the effect of the session. Learn more


Continuous Heart Rate
Get a comprehensive view on how your heart behaves during your day. Continuous heart rate monitoring gives you even more accurate calorie burn and activity data and tells you the lowest and highest heart rate of your day. Learn more


Sleep Plus
Sleeping well will help boost your recovery and performance. Polar Sleep Plus automatically detects the timing, amount, and quality of your sleep. Learn more

*In some sports we recommend a heart rate chest strap for optimal accuracy. Read more about wrist-based heart rate measurement here


| | |
| --- | --- |
| Name | Polar Vantage V Black |
| SKU | P13300 |
| Weight | No |
| Price | R8,995.00 |